Welcome to day one of the 2013 K-12 Online Conference! All presentations are listed and linked on our main conference schedule.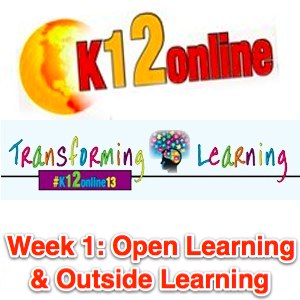 Day 1 presentations include:
OPEN LEARNING

Steve Hargadon and Audrey Watters: Open Learning Keynote
Verena Roberts: K12 Open Learning – What is it all About? My Story
OUTSIDE LEARNING

Kathy Cassidy: Keynote – Connecting Classrooms: It's About Learning
Tressa Graveley Extreme Communication
If you're not already, be sure to follow us on Twitter and "like" us on Facebook. Subscribe to our email list if you're not already receiving email updates from us. Also remember all video presentations are available in iPad / iPhone / iPod touch compatible format in our iTunesU Portal! If you tweet about the conference please use the Twitter hashtag #k12online13.