David Warlick
Raleigh, North Carolina, USA
http://2cents.davidwarlick.com/
Twitter: @dwarlick

Presentation Title
Derailing Education: Taking Sidetrips for Learning
Bio
David Warlick is a 30 year educator, author, blogger, and Web 2.0 programmer. Since 1981, he has been using information and communication technologies to help people learn, young and old. When his school could not afford any software for it's computers, he taught himself to program and wrote award-winning instructional games, before computers could even display in color. His blog postings are read around the world, and his free online web tools are accessed millions of times a week. At heart, David Warlick is a teacher, with a contagious passion and enthusiasm for helping people discover a brand new world of teaching and learning.
David blogs at http://2cents.davidwarlick.com/
and podcasts at http://connectlearning.davidwarlick.com./
Originally posted on:
http://k12online.wm.edu/k12online2006_optz.mp4
Hello and welcome to the k12 Online Conference!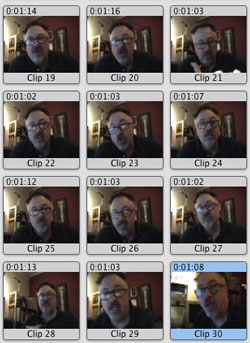 It is a great honor to be delivering the keynote address for this, the first K12 conference of this type. I must admit a certain amount of discomfort with my experience in doing this. First of all, I am not happy performing into technology. I can feel quite at ease speaking to 5000 people in a conference hall. But sitting and speaking into my camera does not come at all naturally to me. I thought it might help to take my camera out of my office and into public places, but, nope that didn't help at all. You judge!
The second reason why I am not taking readily to this arrangement is that I really like teaching people. I like the energy that arises from a group of people who are learning something new or thinking about something in a new way. It is an electricity that hums in my ears, and the electricity of my video camera in hand, does not hum to me.
Still, we teach and we learn in order to accomplish our goals — our personal goals, our community goals, and our planetary goals. ..and the landscape within which we must teach and learn has changed dramatically in just the last few years. Therefore, we all must learn new skills, learn to think about our work in new ways, and to redefine what it is to be a teacher. I am no longer merely one who stands and teaches. I am also an information artisan, creating and crafting learning experiences that bring knowledge, skill, and joy. — and I hope to get better at it 😉
Traditional conferences act like traditional teaching and learning experiences. I face you. You face me. You all face in the same direction. In this conference we are not only facing in different directions, and not only in different locations, but you are reading this blog and watching my keynote at different times. We are free from what Chris Anderson calls the tyranny of locality (Anderson 17). You'll spend some time paying attention to me and others, but the best part of this conference will be the time that you are reflecting on what you see, hear, and read, and then writing in your blogs and populating wikis, and then reading other people's reflections, and reacting. This conference is not as much about teaching and learning as it is about building new knowledge.
Here are some links that may be useful to you:
---
K12 Online Conference Hitchhikr — A page where you can read blog entries posted about this conference.
K12 Online Conference Blog Tagger — This tool will help you generate Technorati tags for your blogs that will make it much easier for you to have your blogs accessible to other conference attendees.
My Keynote Wiki — Here you can register yourself to the wiki page and generate your own conference notebooks for taking notes during the various presentations and conversations. Through this wiki page, your notes will be available to others — and visa-versa.
Ya'll have a wonderful Conference
---

Anderson, Chris. The Long Tail. New York: Hyperion, 2006.