Organizers of the 2014 K12 Online Conference are pleased to announce our lineup of keynote speakers as well as the availability of our 2014 conference marketing flyer. (PDF) Please share this post, information and flyer with other educators you know! We're looking forward to our NINTH year of fantastic and free learning in the K12 Online Conference! We hope you'll not only plan to join us for the conference, but also invite other educators you know to join as well.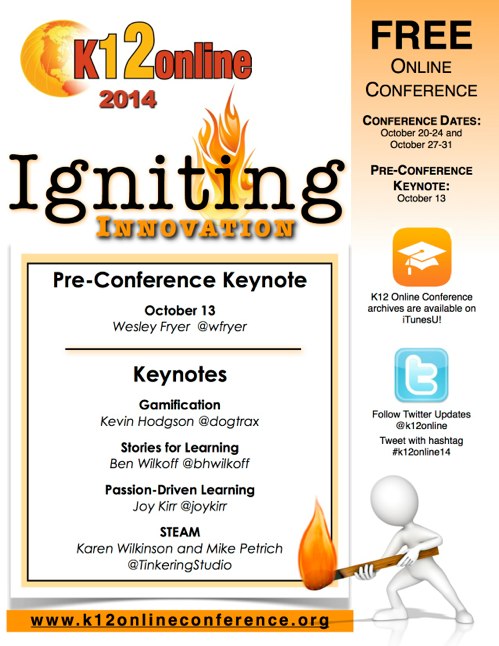 This year's conference will begin the week of October 13, 2014, with a keynote by Wesley Fryer (@wfryer). During week 1 of the conference, Kevin Hodgson (@dogtrax) will share a keynote in the Gamification strand, and Ben Wilkoff (@bhwilkoff) will keynote the "Stories for Learning" strand. During week 2, Joy Kirr (@joykirr) will share a keynote in the "Passion-Driven Learning" strand. Karen Wilkinson and Mike Petrich (@TinkeringStudio) will keynote our STEAM strand. Descriptions for each of these strands are available on our 2014 call for proposals.
Please download our conference marketing flyer in PDF format. Forward this flyer and print it for display at your school in the teachers' lounge, beside teacher mailboxes, outside your classroom, or anywhere else it can catch the attention of other educators! Many thanks to Naomi Harm (@nharm) for creating our flyer and logos for the conference AGAIN this year!
Please tweet about the 2014 K12 Online Conference using the hashtag #k12online14! Remember our online Call for Proposals is open through August 15th. If you haven't presented before for K12 Online, or you haven't presented in a few years, we'd love to have you add your voice, perspectives, and ideas to the learning experience of our 2014 attendees!
We also invite you to SHARE the K12 Online Conference by putting a linked version of our 2014 square conference logo badge on your own blog or other website. You can download the logo and add it to your site, linking it back to k12onlineconference.org.