Welcome to day one of the 2011 K-12 Online Conference! All presentations are listed and linked on our main conference schedule.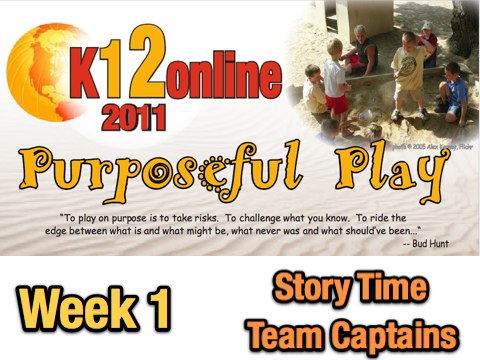 Day 1 presentations include:
Story Time Keynote:
The World's Craziest Educational Videos Featuring ds106 by Jim Groom and Tom Woodward
Team Captains Keynote:
Playing in Public by George Couros
Story Time:
When Learning Becomes an Event! by Andy McKiel
Team Captains:
The World is My Classroom by Anne Mirtschin
Remember certificates for professional development credit are available this year! If you're not already, be sure to follow us on Twitter and "like" us on Facebook. Also remember all video and audio presentations are available in iPad / iPhone / iPod touch compatible format in our iTunesU Portal!
Have a question you'd like our presenters to answer during our closing "Afterglow" live event? Please submit/share it and vote on questions submitted by others in our K12Online11 Google Moderator Poll.