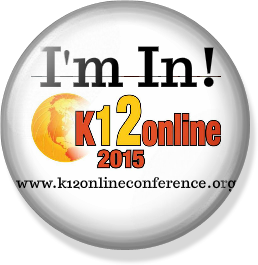 Welcome to day two of the 2015 K12Online Conference! All presentations are listed and linked on our main conference schedule.
Week One – Today we have five presentations. Take your time to enjoy them. Share what you learn with your colleagues. You can always come back to view sessions you missed or those you want to see again. Everything is archived.
Today's sessions:
MAKER ED
Creator's Studio
John Umekubo
Game Jams: Students as Designers
Matthew Farber
STORIES OF CONNECTION
The #WalkMyWorld Project: Exploring the use of digital texts and tools as a means to connect, collaborate, and share
William O'Byrne
Building Bridges: Connecting Students and Teachers to the World through Innovative Technologies
Jennifer Williams and Fran Siracusa
The Power of the PLN in Your Own Backyard
Ben Rimes
Here is a sneak peek into an upcoming presentation: Getting All A's in School by Thomas Ho
++++++++++++++++++++++++++++++++++++++++++++++++++++++++++++++++++++
Don't forget to follow us on Twitter and "like" us on Facebook.  Subscribe to our email list if you're not already receiving email updates from us.
Also remember all video presentations are available in iPad / iPhone / iPod touch compatible format in our iTunesU Portal!
If you tweet about the conference please use the Twitter hashtag #k12online15.