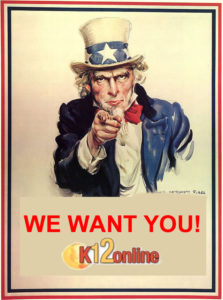 The K12 Online Conference is an all-volunteer, noncommercial effort, which means we rely completely on the contributions of generous volunteers.
If you've ever thought about getting more involved with K12 Online, now is the time!
On Mon., Jan. 12 at 8:00pm ET, we will be livestreaming a video hangout here to talk about volunteer opportunities for the 2015 K12 Online Conference. There are a wide variety of ways to contribute, from marketing to presenting to working on live events. Some of these things only take a few minutes, while others are more involved. However you might like to be involved, there is an opportunity for you! Please RSVP on the Google Hangout if you can attend!
If you can't join us for this hangout but are interested, please fill out this short form and we will also post an archive of the session here.
We greatly appreciate our community's support and help, and look forward to a great 2015!