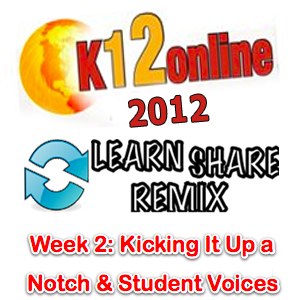 A big thank you to all that have made week 1 a success! The buzz around K12online12 continues to grow. Wait, there is still more to come. In week 2 of our conference we present the "Student Voices" strand and the "Kicking Up a Notch Strand".  Check out the following teasers:
Monday: October 29
Kicking It Up A Notch Keynote: It's Not About The Apps by Mathew Needleman
Student Voices Keynote: Kids Teaching Kids by Tiana Kadkhoda
Technology Rich and Connected Classroom by Fuglestad
Tuesday October 30
Blended Learning by Janine Campbell
Using iOS App Affordances by Richard Beach and Jill Castek
Wednesday October 31
Thinking Big About Learning by Glenda Baker
Thursday November 1st
Student News Teams – Telling the Story
You can find the complete schedule for all presentations for week 2 October 29 – November 2, 2012.  Remember to use our conference tag #k12online12.  From the Organizer team, thank you for being part of K12 Online 2012.