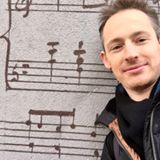 Samuel Wright is a cutting edge music educator that embodies creativity. He taught last year in Korea and then this past summer, moved, with his young family, to Austria. He defines risk-taking in his professional and musical life. He integrates technology into music lessons that seamlessly pushes his students to create and compose using a variety of applications and programs.
On Monday, April 24, 2017, you will see how he has developed his curriculum and collaborated over many continents with other like-minded educators.
He has published iBooks which are found on iTunes U. He delights in creating opportunities for his students and is always looking to creating innovation projects. He has years of experience in Music Education, Composition, Ensembles, Orff & Curriculum Development, PYP (Primary Years Program – International Baccalaureate Primary)  to MYP (MIddle Years Program –  International Baccalaureate Middle Years Programme)  and Diploma Music.
He is an Apple Distinguished Educator (2015). His website offers a wonderful insight to his creative process with his students, https://wrightstuffmusic.com/